High Speed Interlock Circular Knitting Machine
DONGTAI

FUJIAN,CHINA

30 DAYS(Negotiable)

100 sets/month
Genenral Features of double jersey/Interlock Circular knitting machine

◆The cams on the lower and the upper dials of this machine is featured with closed tracks design with cams of knit, tuck and miss.
◆The yarn feeding can be adjusted independently which can knit elastic double jersey fiber by installing an additional Lycra attachment, which is also equipped with varying types of cylinders, easy and quick to transfer, so that it can meet the everlasting demand from the knitting market.
◆These double machines can produce various kinds of high quality double jersey fabric of different level of thickness.
◆The speed of these double jersey circular knitting machines is very fast with simple structure.
◆The machanism is stable & convenient to operate and range of fabric pattern is wide. It can be converted into rib circular knitting machine after altering the cams.
Technical Information
DONGTAI Interlock Circular Knitting Machine Series

Brand

Diameter

Feeders

Gauge

Speed

Frequency

Motor Power

DONGTAI

15''-44''

72-92F

24G-

44G


15-30

RPM

380V/50HZ

5.5KW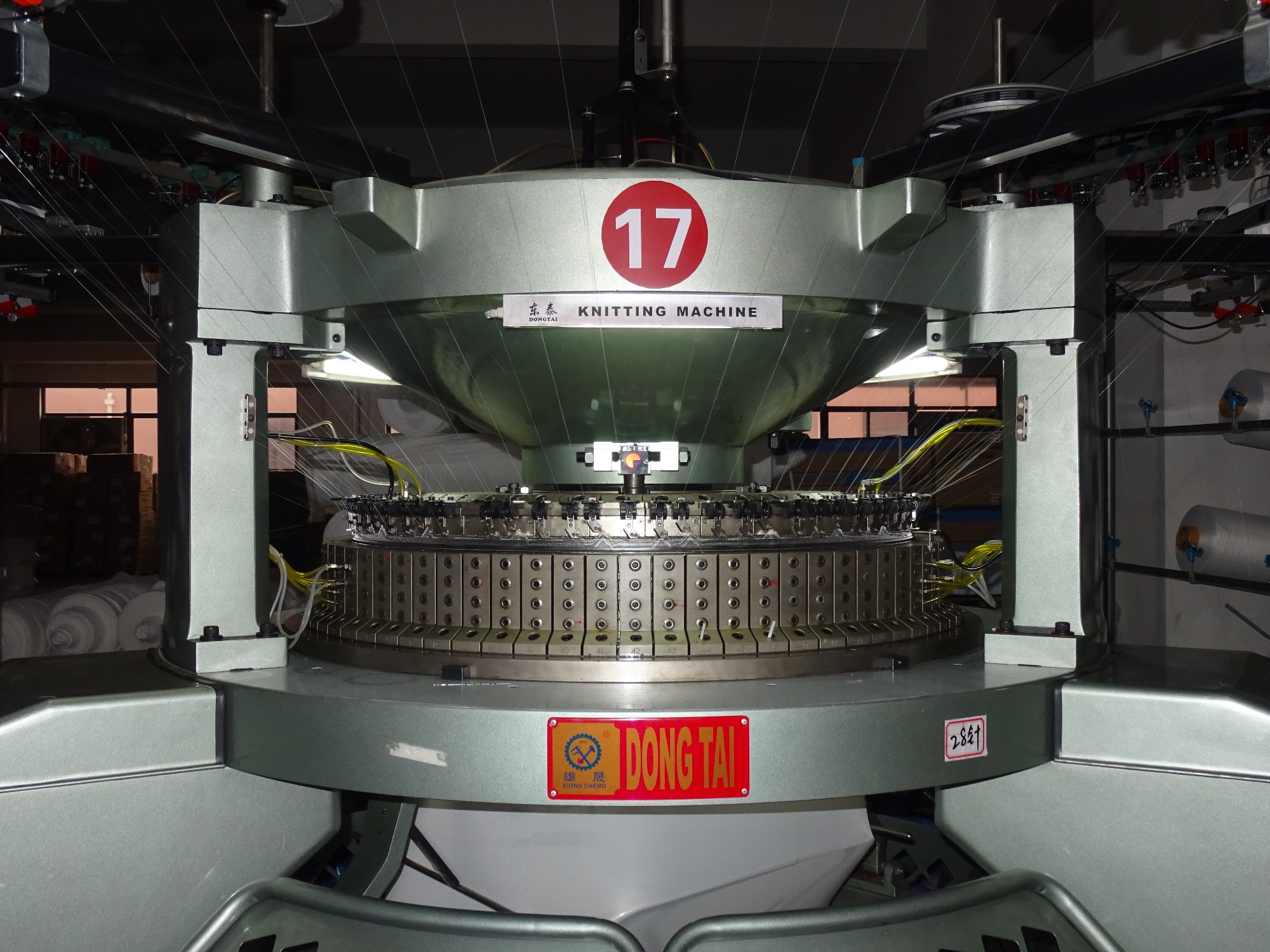 Brief introduction
For high production demand in basic Double Jersey DONGTAI Interlock Circular Knitting Machine can meet the challenge.
To reach mass production market demand, high speed manufacturing facilities and reliable quality control are going to be the determinant production factors in knitting textile industry. DONGTAI Interlock circular knitting machine's performance is particularly suitable for quick production of specialized interlock stander fabrics.
With full experience in the interlock maket DONGTAI R&D people used intelligent software to design and check all knitting area on the Knitel frame structure without mutual interference to reach the ultimate speed performance. The latest bearing
housing groove system are suitable for DONGTAI heavy duty take up system and high speed operation. Precision of the frame base and transmission mechanism is able to minimize the fabric barrie affection. High motor power control and brake units assure the satisfactory in the high speed control.
DONGTAI Interlock Circular Knitting Machine series in the high speed model
can provide a higher precision in the knitting head area.
Main Features
(1) This machine adopts dial drive and cylinder bearing oil immersion design, which lower e the machine running noise, minimize the damage and machine wear under high speed running, and prolong the service life of the machines.
(2) Closed track design for Upper and lower Cams enable the machines to produce various fabrics. Through changing the arrangements of Cams and needles, it can produce various kinds of double jersey fabrics in different density and quality.
(3) With Lycra attachment, the machine can be used to produce elastic fabrics to meet the demands of various senior fabric markets.
(4) Application Area: sportswear, underwear, leisurewear
Applicable Yarn Materials: cotton, synthetic fiber, silk, artificial wool, mesh or elastic cloth.
Fabric Sample and Display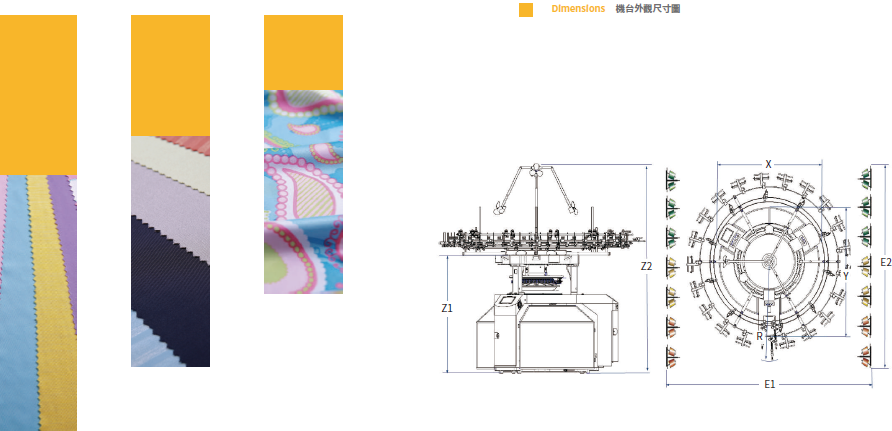 Our Services
Free on site training in our factory;

Good before and after sales service

Engineers available to solve any problem in need.
Company Information
Quanzhou Dongtai Knitting Machinery Co., ltd, founded in 1997, specializes in circular knitting machines with over 22 years of experiences.
Our business philosophy is "quality first, service best". Good Quality is our highest priority and first concern since the establishment of our company. We have our R&D department which uses the latest technology to ensure international quality standards. Our quality control team undertake strict quality checking at every stage of production process right from the selection of raw material till the products are dispatched to the clients. We have been successfully developing and producing high-performance stable and durable circular knitting machines.
With joint effort, our annual output can be up to 1,500 -2000 sets machines. We now already develop ourselves into one of the best manufacturer in China and we have occupied the big domestic market in China with more than 4000 sets machines sold in China. Besides, more than 500 sets of which are sold each year to abroad market to Southeast Asia, Middle East, South America and Africa. Until now, we are still now expending our international market by wanting agencies from all over the world.
To provide good before and after sales service, we have established our nation-wide sales and technical service network in China and world-wide team, which ensure all our clients easily reach to our professional technical and sales support.
With good price, superior quality and best service, we will be your first choice and trustable reliable partners.
Company and Facilities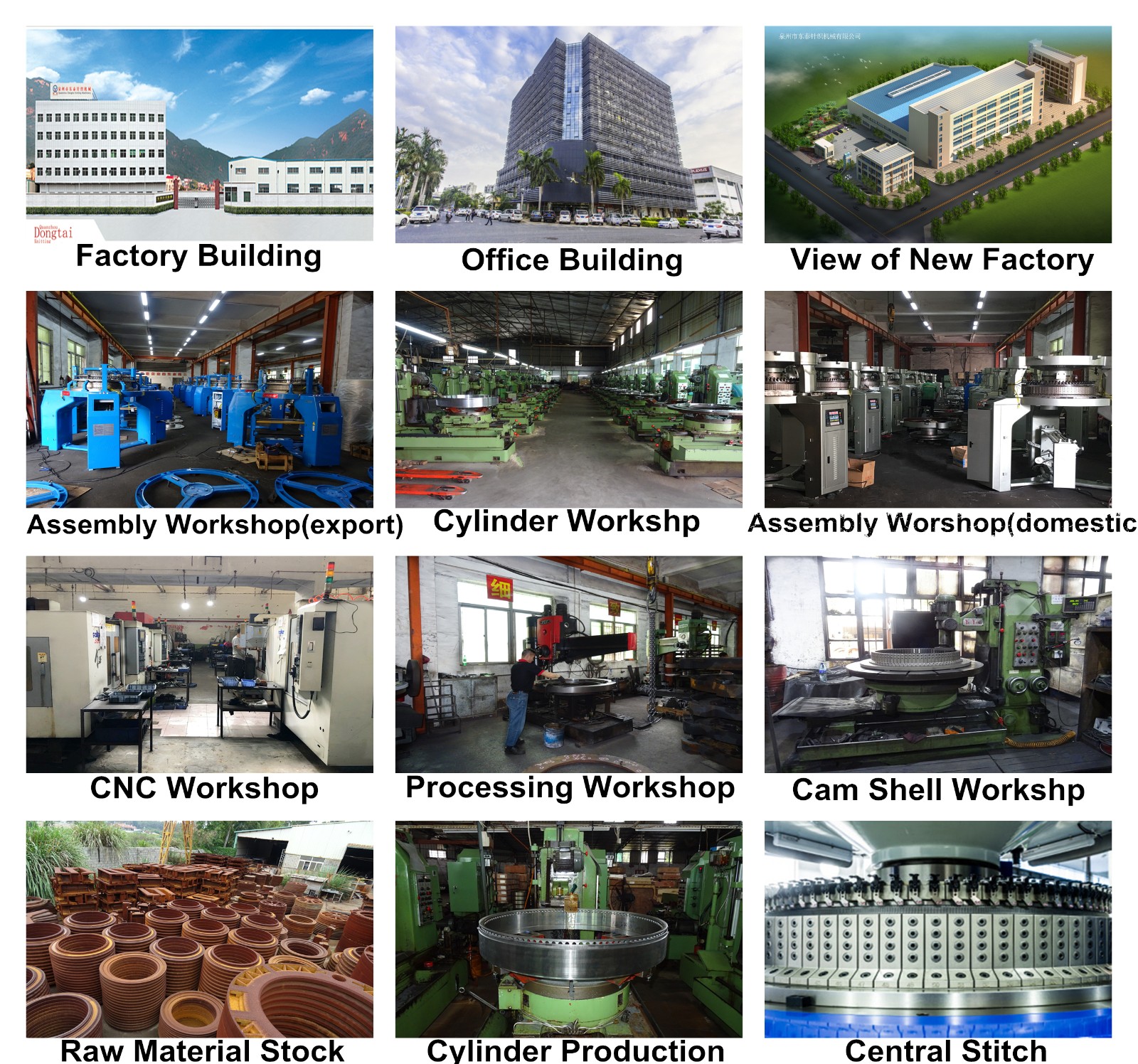 Contact Information
Thanks & Regards
Irisna Young
Phone/Wechat: +86-18876279605 WhatsApp: +86-15160370619
E-mail: dt@dongtaiknitmachinery.com
Tel: +86-0595-88158599 Fax: +86-0595-88158599