High Speed Double Pile Cut Circular Knitting Machine
DONGTAI

FUJIAN,CHINA

30 DAYS(Negotiable)

800 sets/year
▲To create a new life for terry fabrics, DONGTAI researches and offers the new territory of Pile Cut Circular Knitting Machine. It mainly knit high pile fabrics.The length of pile can be exchanged simple,varieties can be replaced easily .It can also produce plush,blankets,coral cashmere,cashmere pea.

▲Double Pile Cut M/C could be used for thick polar fleece, micro fiber fleece, and anti-pilling in outing, jackets, baby pants, hats, baby booties, and outdoor clothing in gardening, hiking and cycling. Also it can replace woven fabrics in towel, gowns, pajamas, lady fashion apparels and toys.

▲SUITABLE MATERIAL:Silk, pure cotton, blend, and synthetic.... etc.
Technical Information
DONGTAI Pile Cut Circular Knitting Machine Series

Brand

Diameter

Feeders

Gauge

RPM

Motor Power

DONGTAI

36''

22F

22G

15-30

5.5KW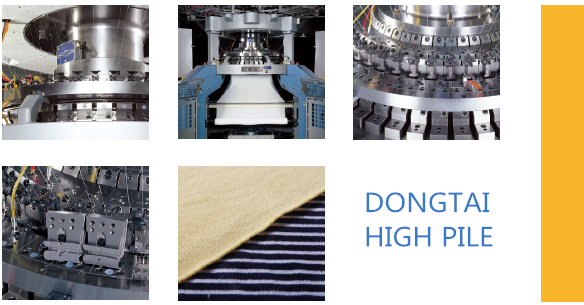 Product Description
The High Pile Loop Cut Circular Knitting Machine, also know as plush knitter,is the improved version of the terry cloth towel machine.it supports simutaneous shearing,which reduces the consumption of raw materials and saves cost, The machine can knit a variety of high quality loop pile fabrics,including plush fabric ,coral velvet of high quality loop pile fabrics,including plush fabric,coral velvet,peacock velvet,rice velvet and so forth.these are several suitable materials,such as cotton,chemical fiber,blended yarn,silk and artificial wool.The range of wool length contains short wool of 1.6-3.6cm,mediun wool of 3.6-5.0cm and long wool of 5.0-7.5cm.
Main Features
▲ This machine is mainly used for blanket, carpet, coral fabric, carding velvet, towel, sun-flower velvet, towel, high-pile, pine fabric and all kinds of garments material. It is also the ideal machine for the replacement of warp knitting machine.
▲Cams are changeable, the adjustment range is wide; knives and needles can work as a unit, or can work separately. There are three types of cam setting for pile height, and pile height can be divided into long(up to 60mm), medium(up to 30mm) and short(up to 17mm), due to its special design for the cams.
▲The motion of the needles depends on the cams, the style of the fabric can be better than the warp knitting machine.
▲The needle drum can be adjusted in many positions, running precision is high, so the abrasion of the drum is much less; the action of the needles is smooth and steadily, the fault of the fabric can be reduced greatly.
Fabric Sample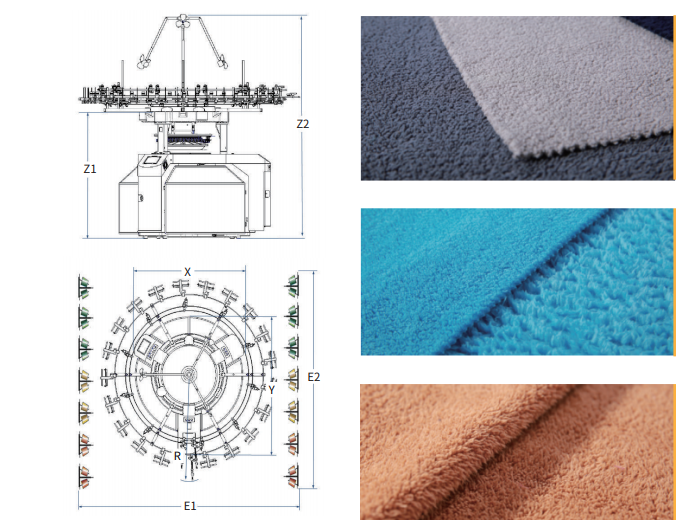 International Standard Seaworthy Wooden Packing for Export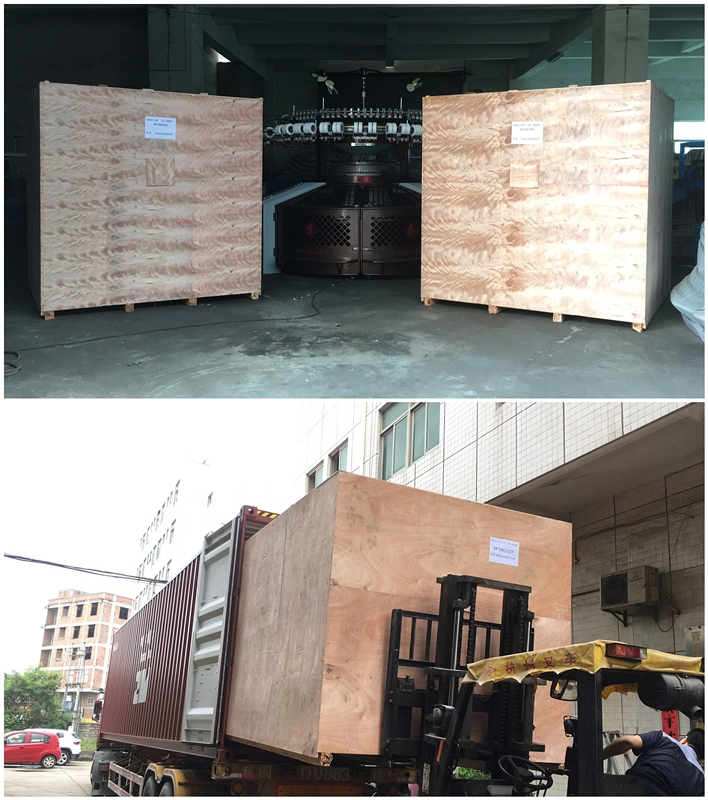 Company Information
Quanzhou Dongtai Knitting Machinery Co., ltd, founded in 1997, specializes in circular knitting machines with over 22 years of experiences.
Our business philosophy is "quality first, service best". Good Quality is our highest priority and first concern since the establishment of our company. We have our R&D department which uses the latest technology to ensure international quality standards. Our quality control team undertake strict quality checking at every stage of production process right from the selection of raw material till the products are dispatched to the clients. We have been successfully developing and producing high-performance stable and durable circular knitting machines.
With joint effort, our annual output can be up to 1,500 -2000 sets machines. We now already develop ourselves into one of the best manufacturer in China and we have occupied the big domestic market in China with more than 4000 sets machines sold in China. Besides, more than 500 sets of which are sold each year to abroad market to Southeast Asia, Middle East, South America and Africa. Until now, we are still now expending our international market by wanting agencies from all over the world.
To provide good before and after sales service, we have established our nation-wide sales and technical service network in China and world-wide team, which ensure all our clients easily reach to our professional technical and sales support.
With good price, superior quality and best service, we will be your first choice and trustable reliable partners.
Company and Facilities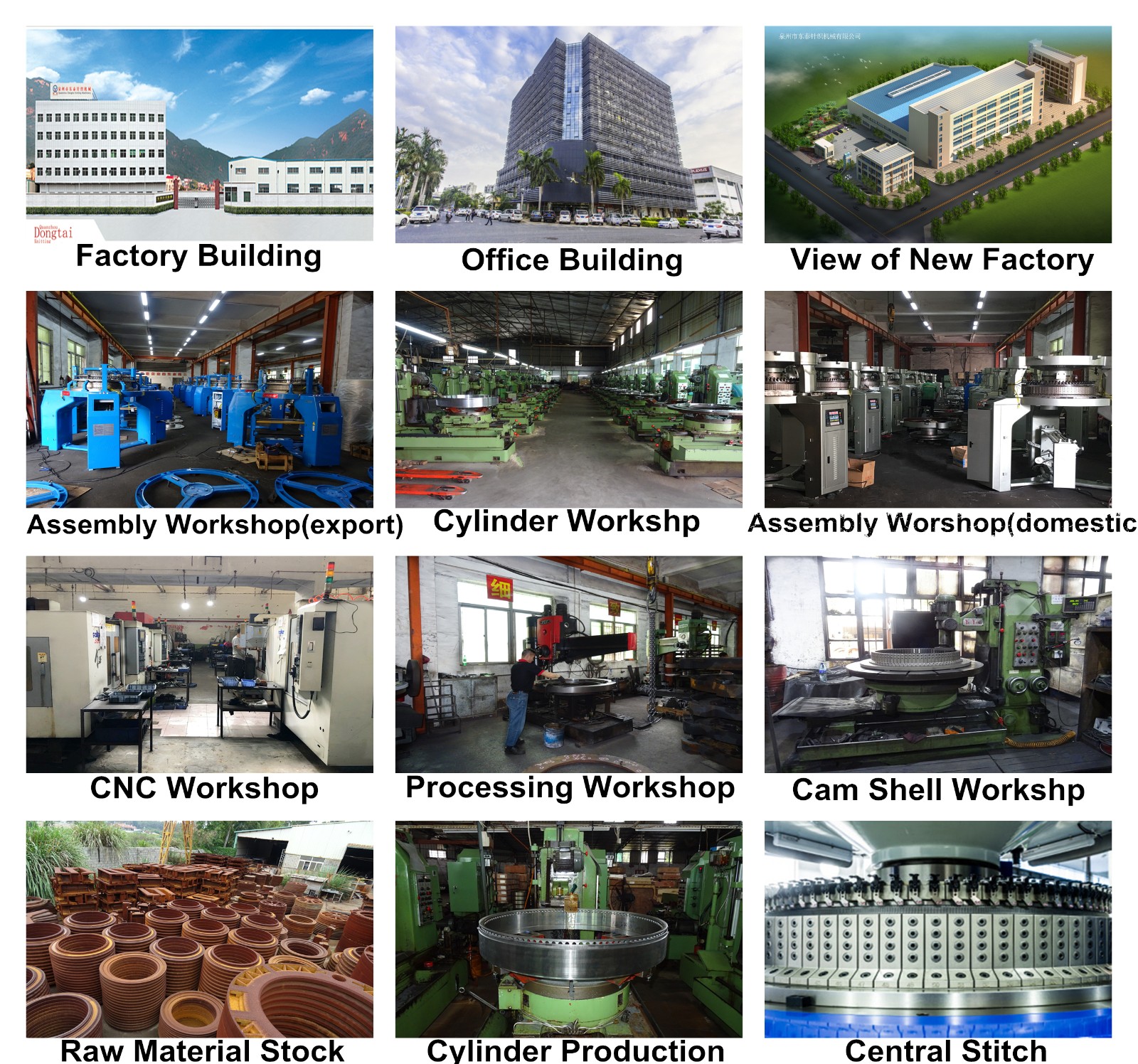 Contact Information
Thanks & Regards
Irisna Young
Phone/Wechat: +86-18876279605 WhatsApp: +86-15160370619
E-mail: dt@dongtaiknitmachinery.com
Tel: +86-0595-88158599 Fax: +86-0595-88158599