High Speed Double Computerized Jacquard Circular Knitting Machine
DONGTAI

FUJIAN,CHINA

30 DAYS(Negotiable)

800 sets/year
The Computerized Double Jersey Jacquard Circular Knitting Machine is used to produce various kinds of double jersey with high quality and plentiful designs, such as undyed jacquard. It adopts the closed up and down design for cams, which are applied in conjunction with an appropriative jacquard needle selector of single or double technology. There are several processable raw materials, like cotton,silk,artificial wool,chemical fiber, blended yarn and high-elastic polyester silk etc.

The double jersey electronic jacquard circular knitting machine features a computerized actuator to select needles on the cylinder.
▲Able to knit various designs of jacquard fabric
▲Application Area: Clothing, sheet, pillow towel, fabrics for children and other home textiles.
▲Applicable Yarn Materials: cotton, synthetic fiber, silk, artifical wool, mesh or elastic cloth.
DONGTAI Double Computerized Jacquard Circular Knitting Machine Series

Brand

Diameter

Feeders

Gauge

Speed

Frequency

Motor Power

DONGTAI

34''-38''




72F




20G-

32G

13-20 RPM

380V/50HZ

5.5KW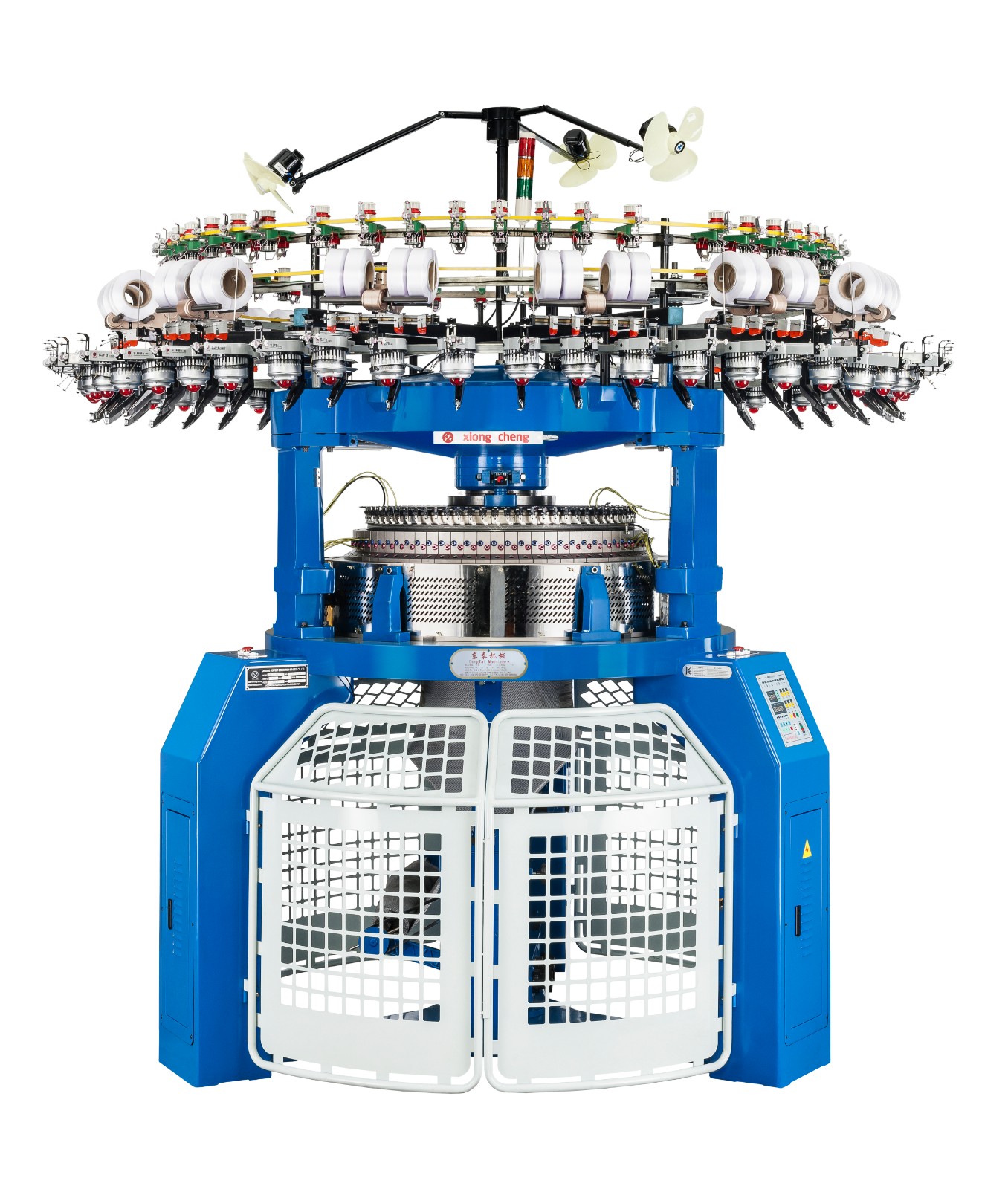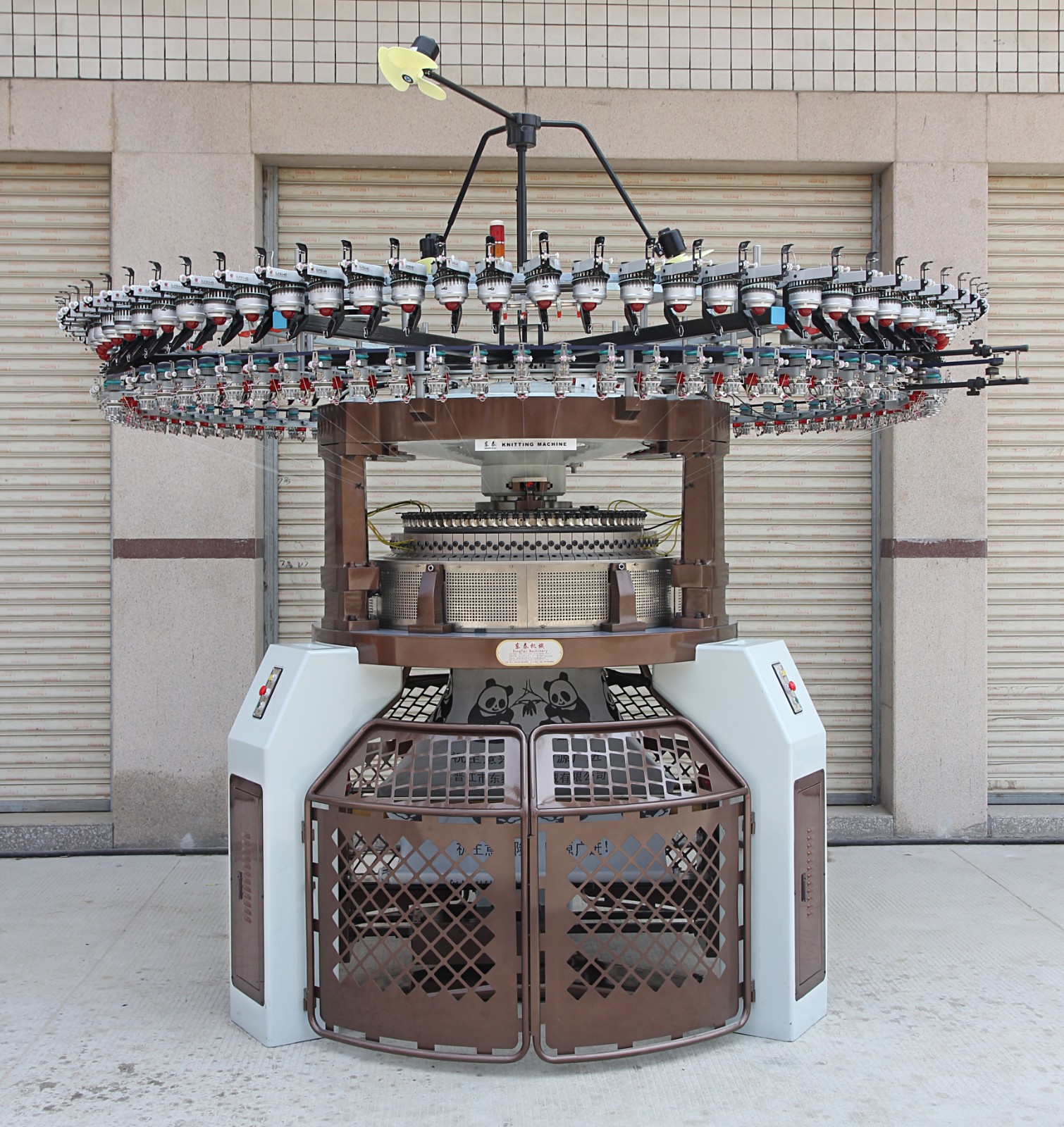 Product Instruction
DONGTAI Double Jersey Computerized Jacquard Circular Knitting Machine is a thoroughbred model with the latest technology and refinement. Its design philosophy is uncompromising and brings together practical application, making a double jersey full jacquard knitting machine great with that unique DONGTAI spirit.
Equipped with the revised and easy to maintain Piezo element control system, the jacquard machine is able to reach three technical ways to fulfill the full jacquard request, which enables you to overcome the limit range in the general mechanical jacquard machine. Extra memory capacity can be increased to make a larger and complex pattern if necessary.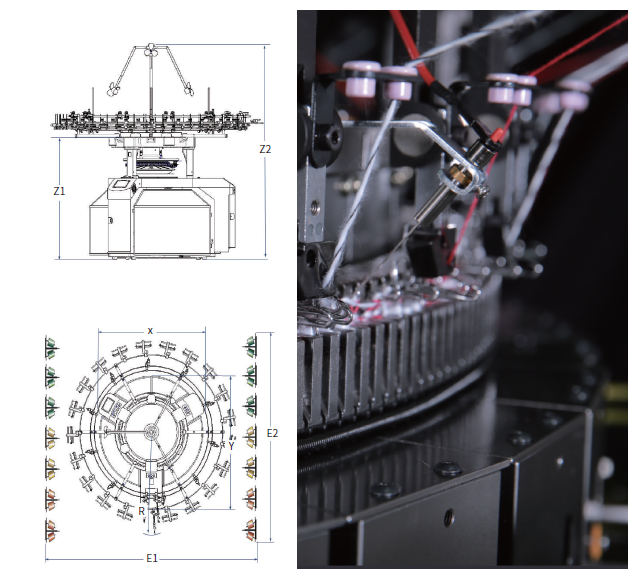 Main Features
▲DONGTAI offers the design software for fabric pattern design or quick revision. With multi-function in the entire display, it is easy and quick to create complex and mirror effect in the computer system. This system converts the pattern design
for the jacquard machine reading and knitting.
▲DONGTAI Double Jersey Computerized Jacquard Circular Knitting Machine not only can make full jacquard, even in different color or yarn composition, but also
elastic yarn plaiting for three-dimentsion effect.
▲DONGTAI also offers several conversion kits for special structure design. One knit is the loop like fabric model; with non hook needle and parts change, it can make two technical ways full terry like jacquard, another model is the envelopment structure for mattress ticking, and the latest development is the jacquard spacer for industrial fabric applications, such fabrics are good for packing materials, anti-vibration, or medical purpose, etc.
Fabric Sample

Packaging Details:International Standard Seaworthy Wooden Case Packing for export
Port:XIAMEN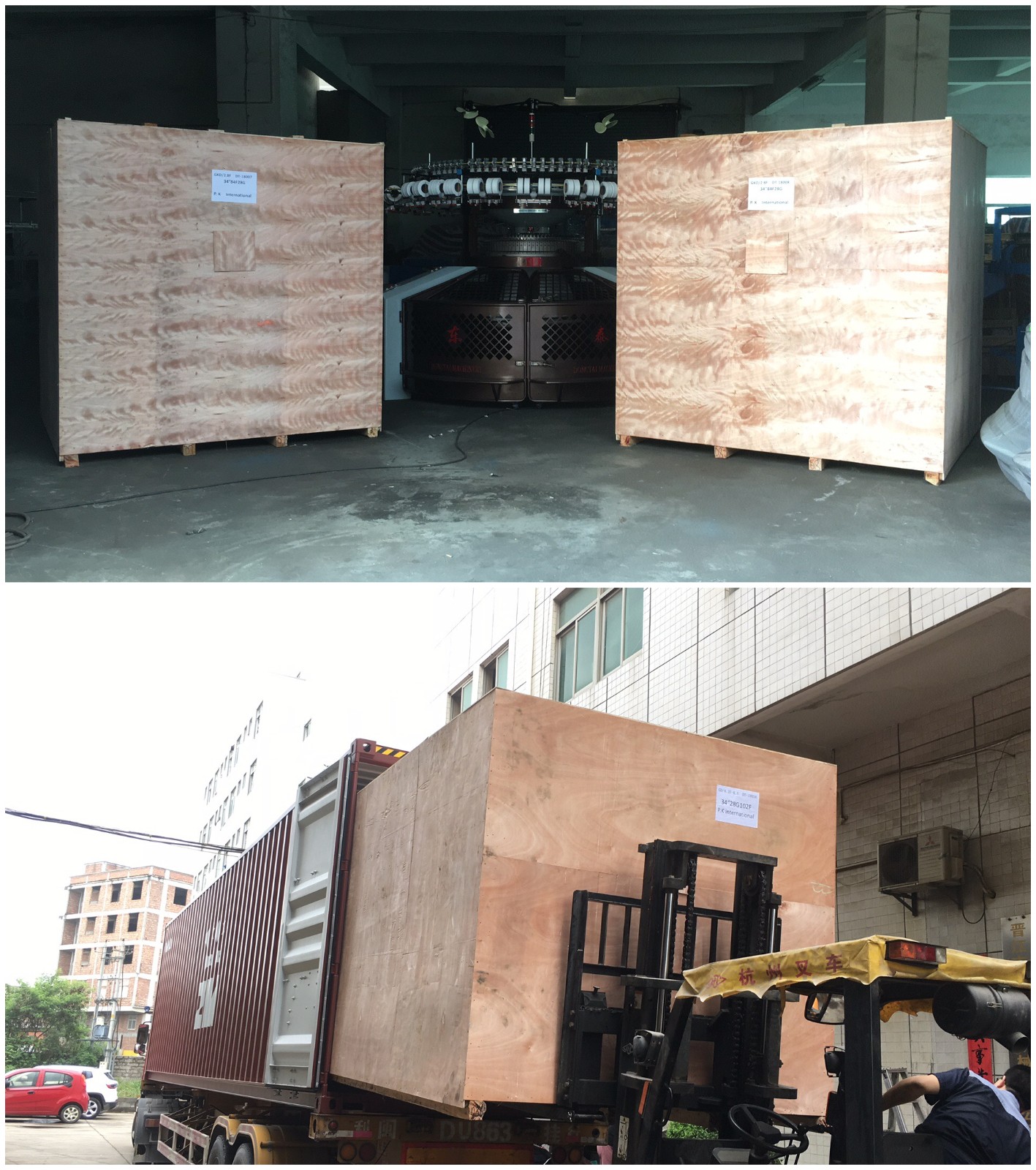 Company Information
Quanzhou Dongtai Knitting Machinery Co., ltd, founded in 1997, specializes in circular knitting machines with over 22 years of experiences.
Our business philosophy is "quality first, service best". Good Quality is our highest priority and first concern since the establishment of our company. We have our R&D department which uses the latest technology to ensure international quality standards. Our quality control team undertake strict quality checking at every stage of production process right from the selection of raw material till the products are dispatched to the clients. We have been successfully developing and producing high-performance stable and durable circular knitting machines.
With joint effort, our annual output can be up to 1,500 -2000 sets machines. We now already develop ourselves into one of the best manufacturer in China and we have occupied the big domestic market in China with more than 4000 sets machines sold in China. Besides, more than 500 sets of which are sold each year to abroad market to Southeast Asia, Middle East, South America and Africa. Until now, we are still now expending our international market by wanting agencies from all over the world.
To provide good before and after sales service, we have established our nation-wide sales and technical service network in China and world-wide team, which ensure all our clients easily reach to our professional technical and sales support.
With good price, superior quality and best service, we will be your first choice and trustable reliable partners.
Company and Facilities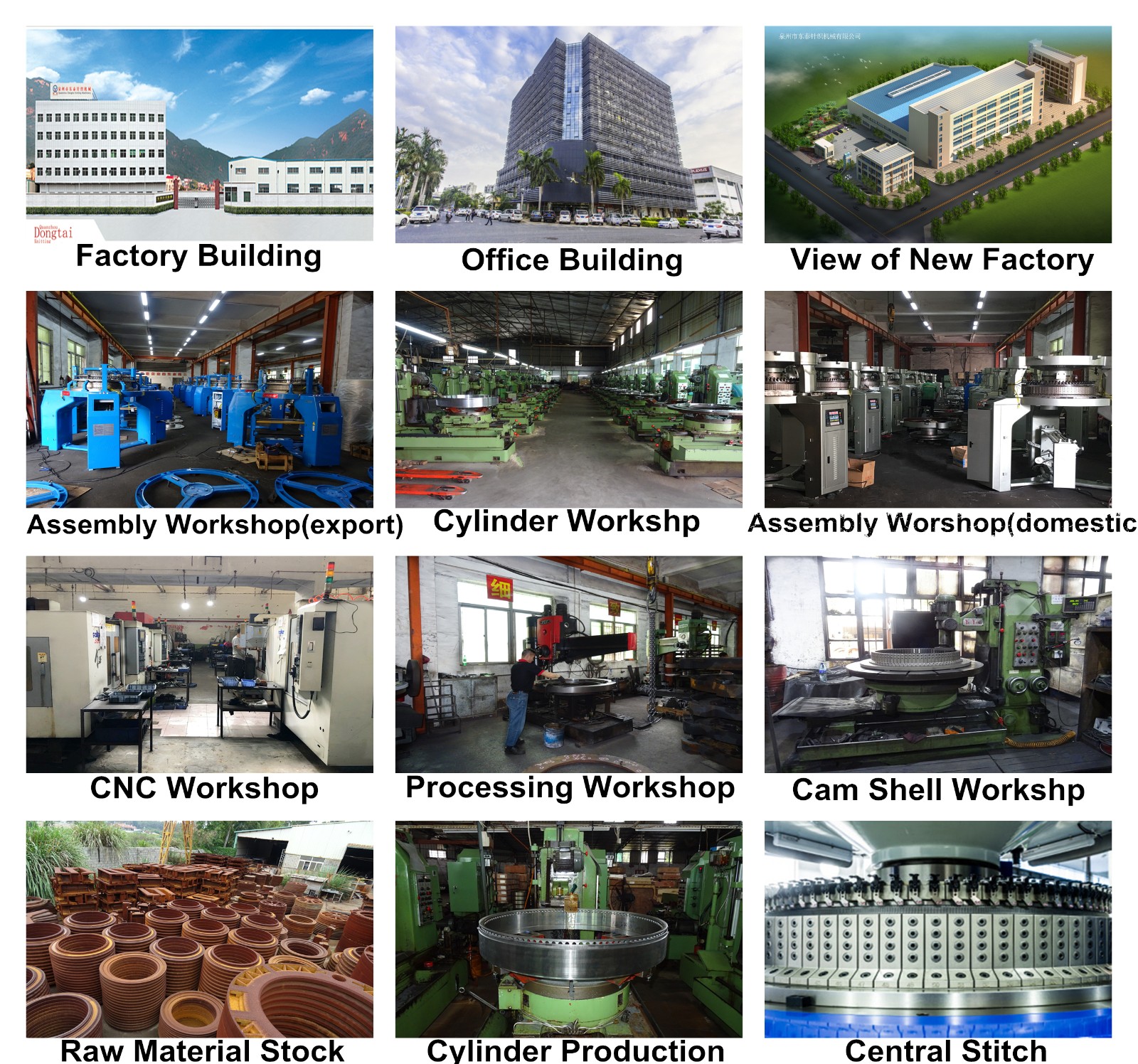 Contact Information
Thanks & Regards
Irisna Young
Phone/Wechat: +86-18876279605 WhatsApp: +86-15160370619
E-mail: dt@dongtaiknitmachinery.com
Tel: +86-0595-88158599 Fax: +86-0595-88158599